2020 Information
​
World's Finest Midway - All 4 Days
World's Finest Shows is one of the largest midway companies in the world! Come out and enjoy a ton of great rides, games, and entertainment for kids of all ages and the young at heart. Games and Rides will run everyday throughout the festival.
---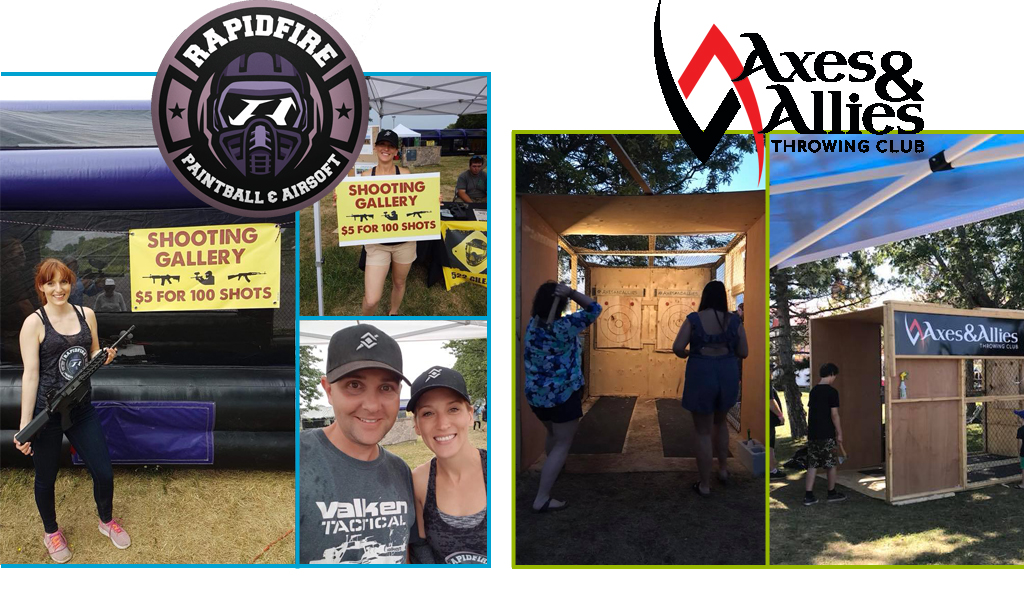 Rapidfire & Axes & Allies - All 4 Days
Near the Vendors Marketplace, be sure to check out Rapidfire Paintball & Airsoft and Axes & Allies Throwing Club. Test your accuracy at the Airsoft Shooting Range, 100 shots for only $5.00! AND I bet you can probably throw a ball, but can you throw an Axe? Get 10 throws for $5.00 and find out!
---
Quinte Lasertag - All 4 Days
Come join Quinte Lasertag for some SAFE, FUN outdoor lasertag! Grab one of our custom taggers & stop Mom & Dad, or your best pal, from tagging you out by getting them first or by seeking shelter from the trees & barriers we have set up in the woods on the hill!
---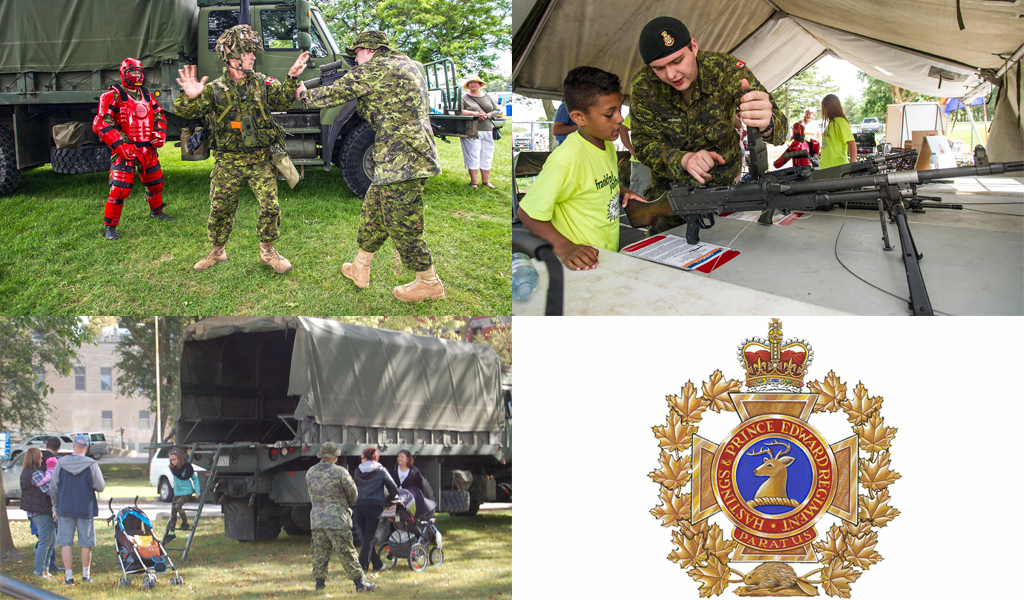 Hastings & Prince Edward County Regiment - All 4 Days
Check out the interactive display and demonstrations put on by our very own Hasty P's. Explore and get up close with their awesome vehicles, watch them put on some demonstrations, and play in their interactive display setup. This is a save and fun interactive display for the young and young at heart.
---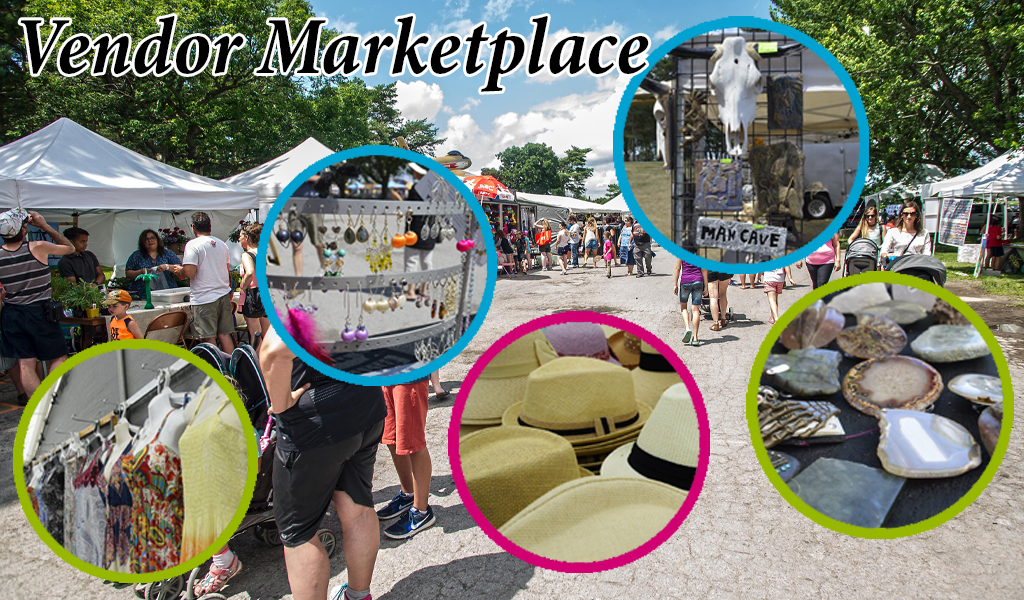 Vendor Marketplace - All 4 Days
The Vendor Marketplace is open daily and will feature amazing items for sale such as; Jewelry, clothing & accessories, toys, arts & crafts, handmade multicultural crafts from around the world, henna art, face painting & beauty products and so much more. Prepare to get your shop on when you visit the Vendors Market!
---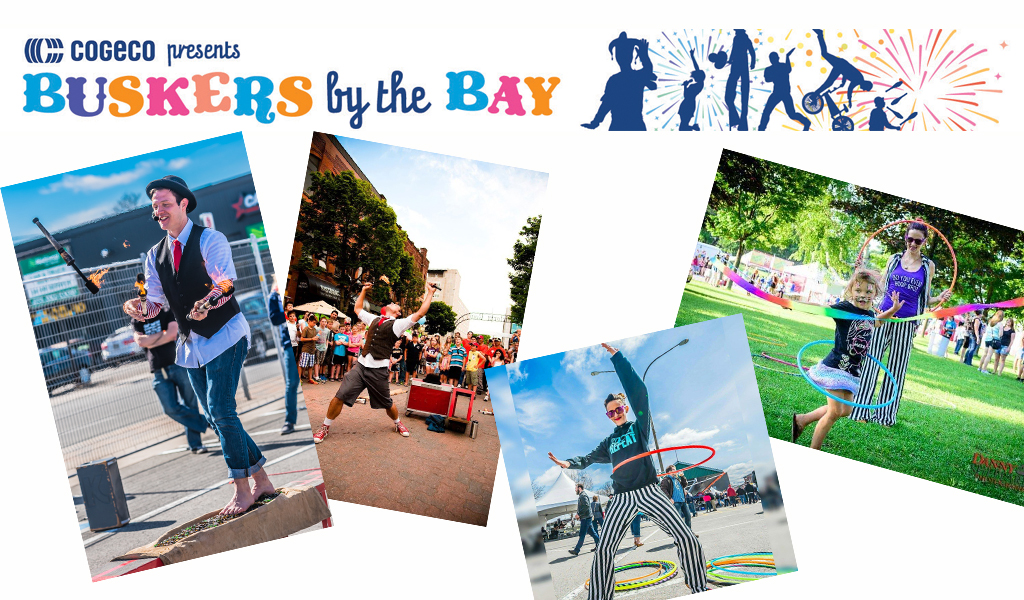 Buskers by the Bay - Thursday
DJ Electric Hoopster will be showing off her Hula Hoop skills ... ask her to teach you a cool trick or just stay to dance with her & her huge variety of Hula Hoops! Kobbler Jay has the energy of ten puppies - with none of the mess! He performs the fastest & most furious apple juggling routine you are ever likely to see, and can gracefully walk barefoot on broken glass while juggling flaming torches. Take all of that and combine it with his talent for tossing knives atop a terrifying tower of tables treacherously teetering on a tube and you end up with a show that you simply cannot miss!
---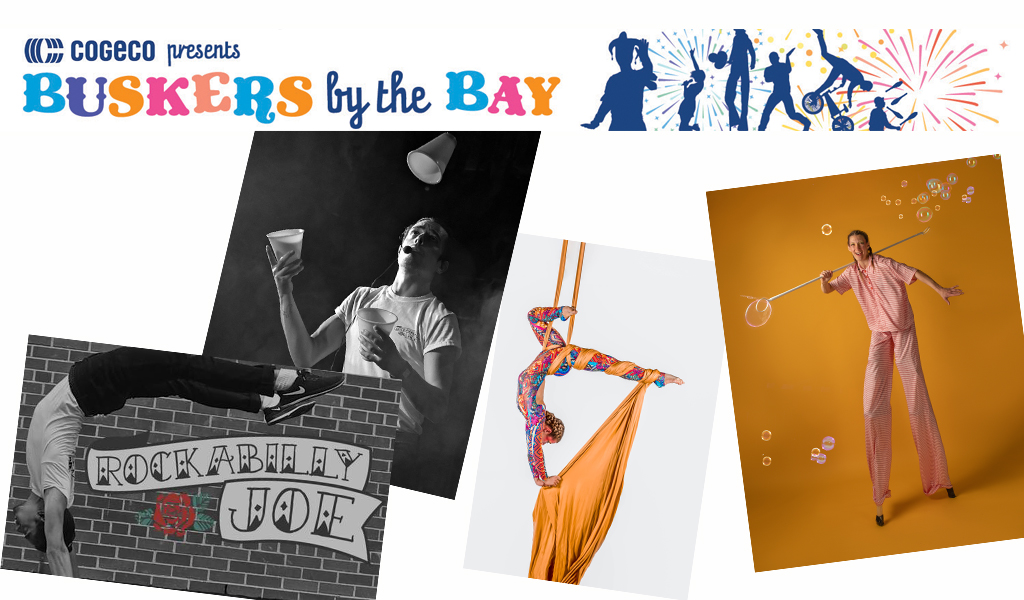 Buskers by the Bay - Friday
Rockabilly Joe is sure to entertain, with his incredible juggling, acrobats, and charismatic personality. Put these 3 things together and fun is sure to be had. Trellis Entertainment is graceful aerial arts combined with circus acts. Amazing acrobatics, jaw dropping aerials, circus fun and comedy all rolled into one!
---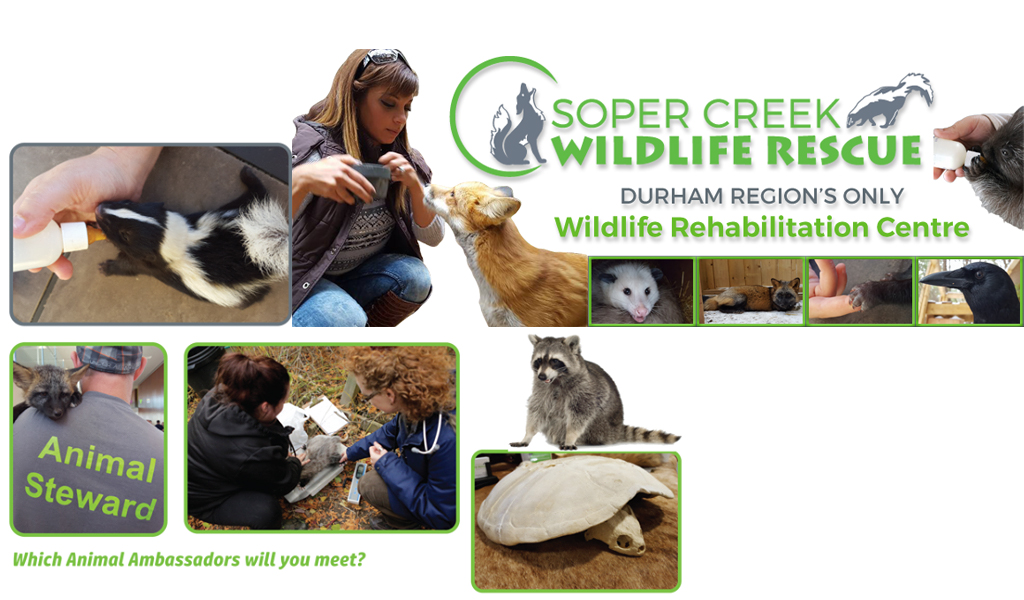 Soper Creek Wildlife - Friday & Saturday
"Wildlife Detectives" teaches families about wildlife in Ontario ... hands on activity stations where you can become a "Poop Detective" by searching the forest floor for scatt & match it up with the right animal, or, match up tracks to the appropriate animal. A bandage station will be set up to teach families how to wrap a broken Teddy Bears arm or leg properly, so bring your favourite bear along! Several animals will also be at the festival for meet & greets.
---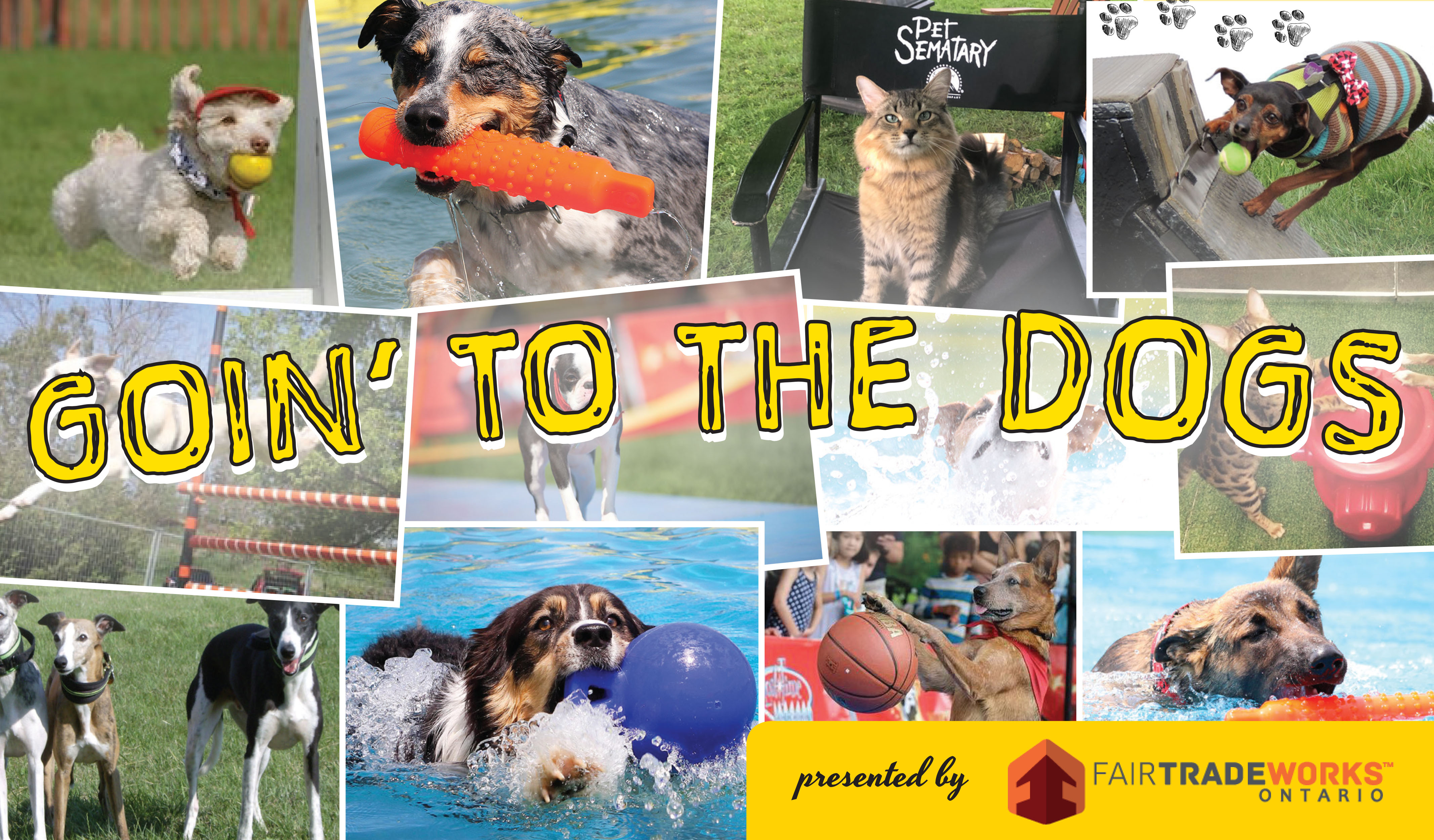 Canine Watersports - Friday, Saturday & Sunday
One of our most popular attractions returns again this year! Canine Watersports is incredible fun for the whole family. Watch as dogs big and small jump for the moon, or more accurately jump for the toy. With competitors from all over North America, this competition will be "furce". Join the dogs on the hill for a Splashing good time!
---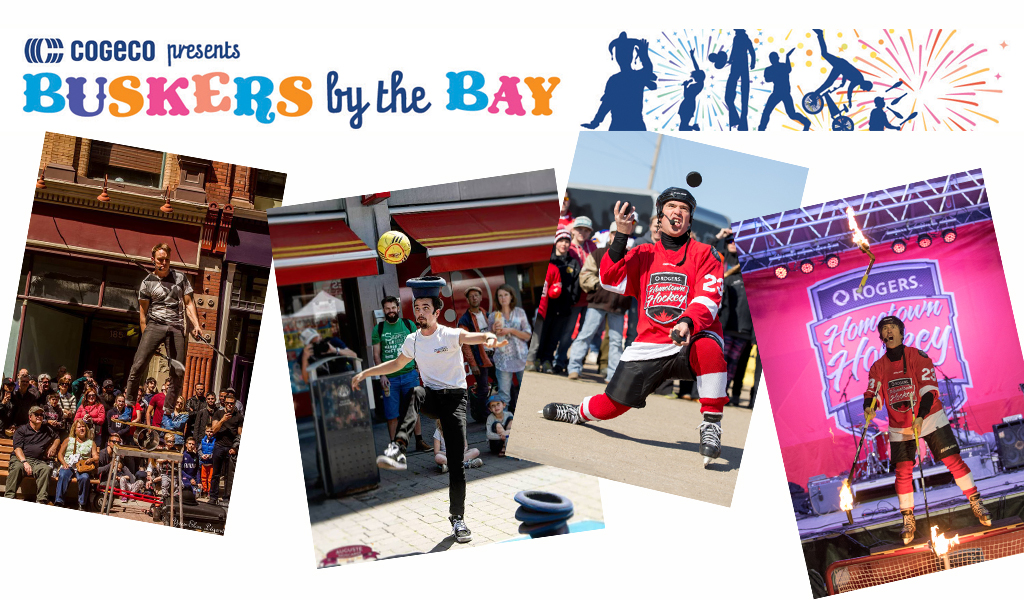 Buskers by the Bay - Saturday
Rockabilly Joe & Yoshi are teaming up to bring you an acrobatic juggling performance that you just won't want to miss. They will also be performing the show in french. We will also be welcoming back to Belleville Paz and his Hockey Circus Show. The Hockey Circus Show is the ultimate hockey tribute. Three periods of family friendly comedic hockey circus action in one "arena" rocking performance. Hockey fans love the theme & Circus fans love the action. You don't have to be a fan to enjoy this all-star show.
---
Kouri's Kopters Rides - Saturday & Sunday
Why not take your festival experience to new heights? Take an amazing Helicopter Adventure and get a birds eye view of Belleville. Helicopter Rides are happening on Saturday and Sunday ONLY between 11:00 AM & 4:00 PM and will be taking off from the soccer fields.
---
Hourglass Mysteries - Saturday & Sunday
We need your help! We've only got 15 minutes and 4 clues or puzzles to save the city from the evil Dr. Doomsday! Get your family and friends together and save the city at the NEW Hourglass Mysteries mobile escape room.
---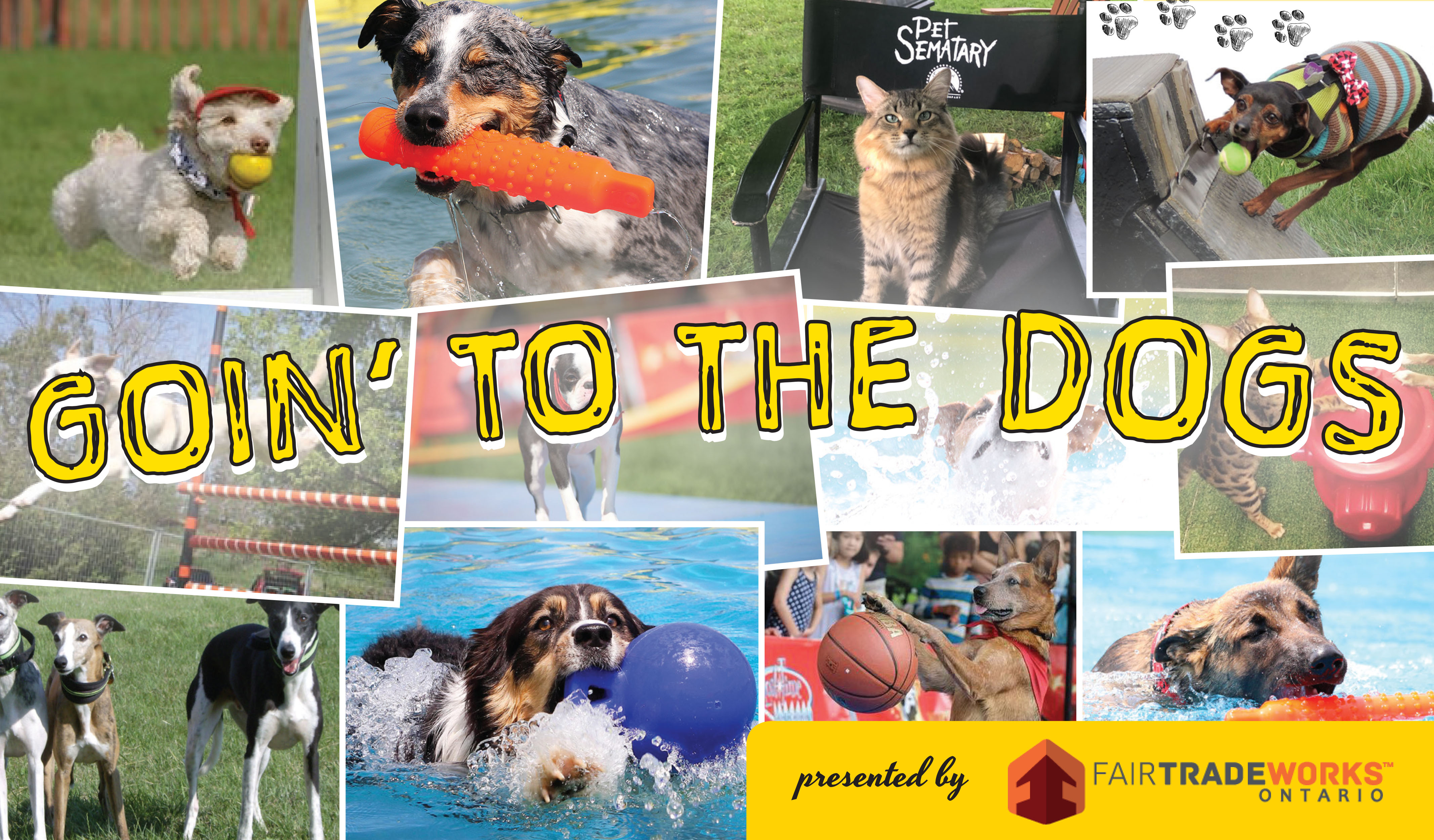 Ultimutts Dog (& Cat) Stunt Show - Saturday & Sunday
The Ultimutts are back again. This is a unique show that features non-stop jaw dropping tricks! Rescued dogs demonstrate 50+ amazing stunts including tightrope walking, skateboarding, scooter riding, basketball slam dunk, handstands, jump rope and more! The unique tricks have landed these 4 legged stars celebrity status and worldwide attention. They have a feline friend who may come along too! www.ultimutts.ca
---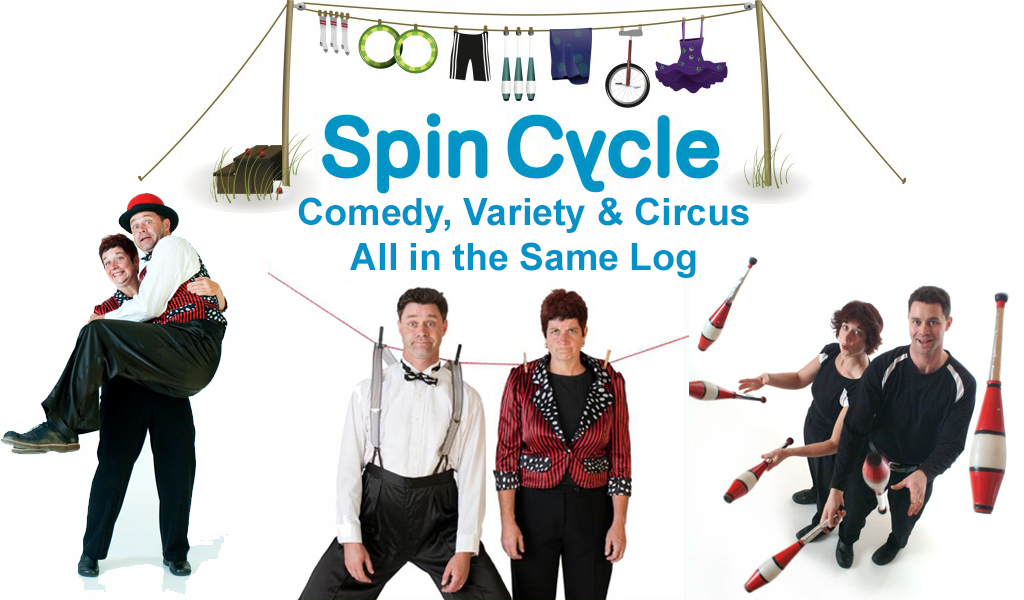 Spin Cycle Variety Show - Sunday
The Spin Cycle show is a unique combination of fantastic skills, infectious comedy and great two-person variety routines the likes of which haven't been seen since the golden age of vaudeville. This act features juggling, stilts, unicycles, puppets and much more!

---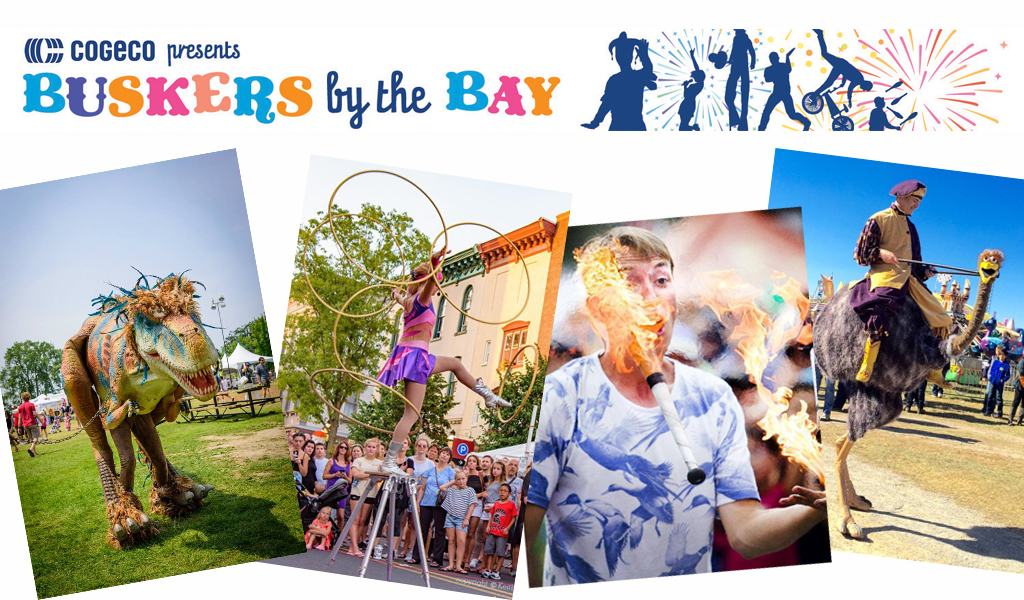 Buskers by the Bay - Sunday
Keep your eyes open for our "pet" dinosaur as he wanders around the park looking for snacks and friends! Stay on his good side - We will also be joined by our friend Flightless Floyd the ostrich and his partner Big Bo Peep. Also make sure to check out the incredible hoop show by Isabella Hoops and the incredible juggling act of Yoshi the Cirque Du Soleil trained performer.
---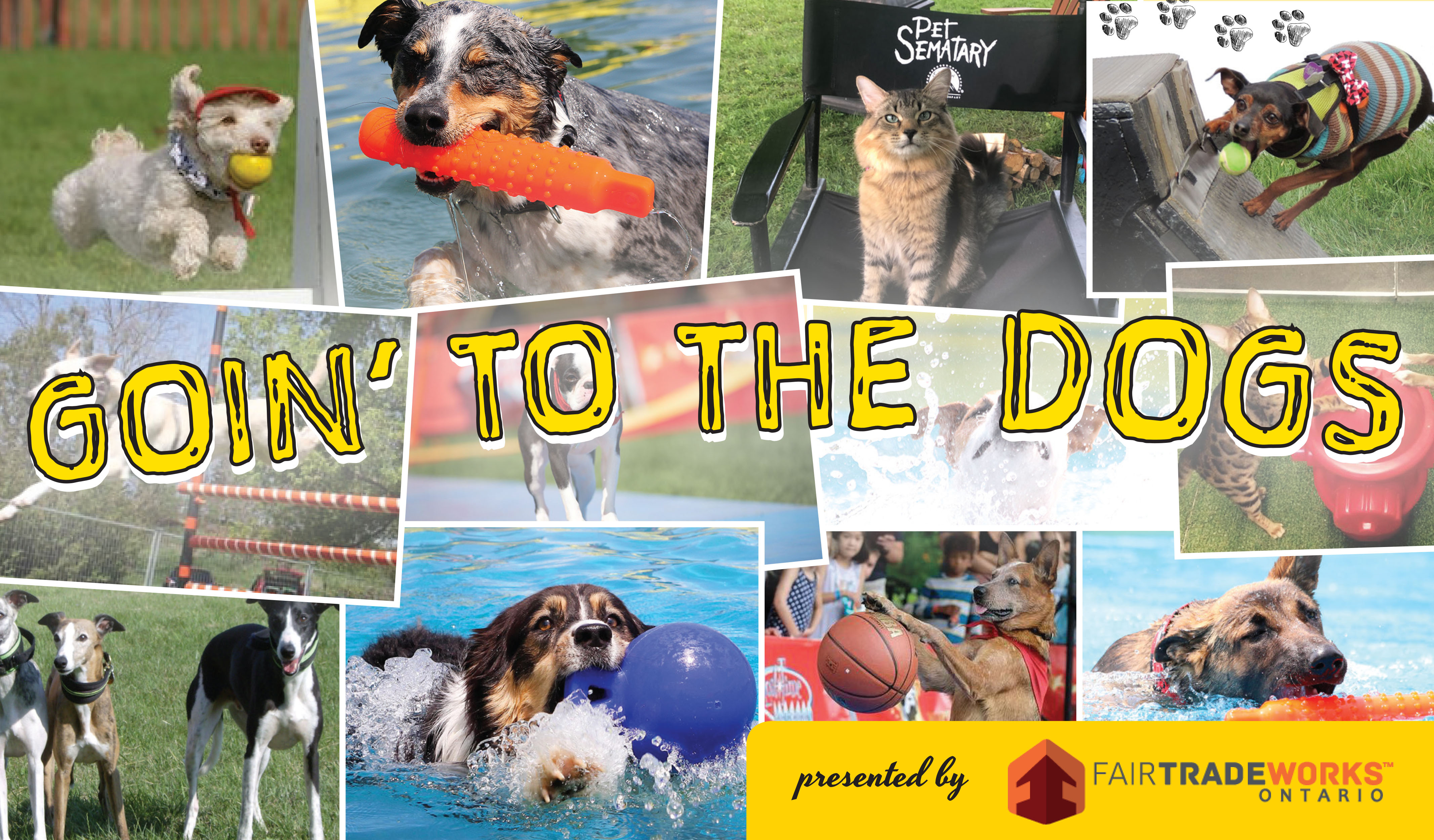 Hot Diggity Dogs - Sunday
The Quinte Region Club is celebrating their 20th Anniversary & look forward to bringing their pets to entertain festival visitors! Flyball offers great mental & physical exercise for dogs & tons of fun for spectators. It is a relay sport with dogs jumping over hurdles, running through tunnels, catching balls & frisbees and performing other unique tricks. Be sure not to miss their 2 shows on Sunday!