Saturday, July 13th Schedule

Quinte Ballet School of Canada - 1:00pm (Food Village)
Quinte Ballet School Students come together for their awesome Annual Waterfront FLASHMOB. Keep your eyes open around the Multicultural Food Village for this impromptu dance performance!
---

The FarSide - 1:05pm (Mainstage)
Quinte's favourite party band will be rocking the house by covering a wide selection of artists including; Van Morrison, Counting Crows & Barenaked Ladies to name a few. The FarSide are a band you never want to miss!
---

The Decades Showband - 6:30pm (Mainstage)
Andrew Martin brings his talented 9 piece band to the Saturday night lineup. Relive some of your favourite music from the Motown era (Diana Ross, The Temptations, Marvin Gaye & more), to the Disco era (Elton John, KC & The Sunshine Band) through to Classic Rock (The Eagles, Neil Diamond, Tom Jones, Elvis Presley & more). You will be singing along to some of the best decades of music & be dancing in the aisles. Come on down and find out why this performance has been called "a GREAT party show!"
---
Jordan John - 8:30pm (Mainstage)
Returning by popular demand is international vocal sensation & multi-instrumentalist Jordan John who is 'Motown Today' … a uniquely diverse combination of classic Rhythm 'n Blues combined with an explosive onstage personality resulting from sheer talent. Bolstered by a world class band featuring legendary Rock 'n Roll Hall of Fame bassist Prakash John plus some of Canada's brightest young up & coming musicians, Jordan's refreshing interpretation of soulful classics & his original repertoire are sure to captivate & amaze both avid & casual fans of music. Get ready to dance!
---
The Soul Brothers - 10:00pm (Mainstage)
Let's keep Prakash & the band rolling for this R&B Comedy Revue...Real Brothers - Real Blues - Real Fun! Smash hits by The Blues Brothers, Ray Charles, Sam & Dave, The Drifters and so much more!
---

The Trillium Alphorn - Afternoon (Children's/Food Village)
With the passing of time, the Alphorn almost disappeared as an instrument used by Swiss shepherds. It was only with the romanticism of the 19th Century and the revival of folklore and tourism that the Alphorn experienced a renaissance and even became a national symbol for Switzerland.
---

Unisono - Various Times (Children's/Food Village)
Join in on the fun as this talented group of students visiting from Mexico and their tour leaders present interactive performances with Mexican, Canadian, Classical & Contemporary music, drama & dance!
They will also have art activities for kids and Mexican arts & crafts for sale.
---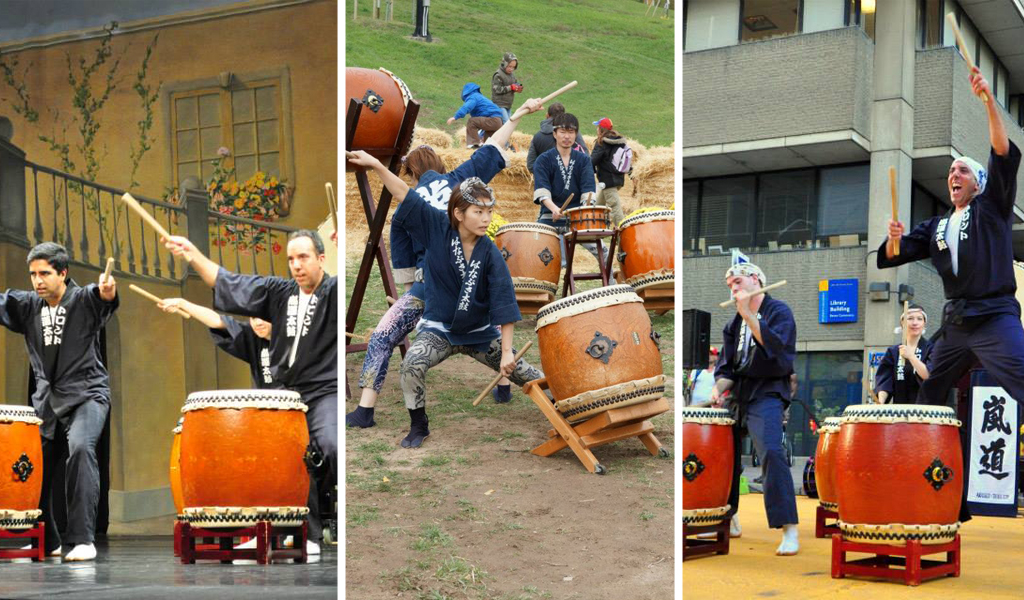 Arashido Taiko Japanese Drummers - Various Times (Children's/Food Village)
Taiko is a team based drumming experience using large traditional Japanese drums. Using a team and multiple drums they are able to create songs with a combination of different rhythms, tones and sounds. This exciting high energy show is a must see!